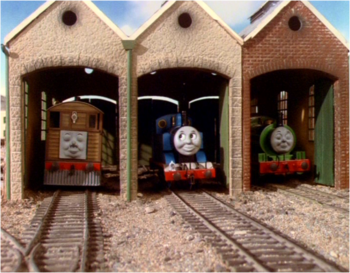 When Thomas was given his branch line, a small shed was built for him at Ffarquhar.
Ffarquhar Shed began as a red-brick single shed built for Thomas, but when the Fat Controller bought Toby and Henrietta from East Anglia to Sodor, a new white-brick shed and the carriage shed were added on. The shed remained so until Percy left Tidmouth to work at the harbour when the white-brick shed was given another line.
Originally, Thomas, Percy, and Toby slept there. However, Jennifer and Rosie have also been shown sleeping here.