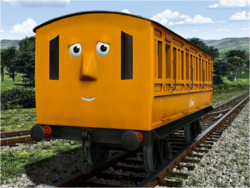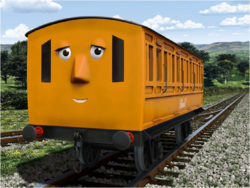 Annie and Clarabel
Class: LB&SCR coaches No. 661
Annie and Clarabel are Thomas' faithful coaches, whom he loves very much.
Bio
before Thomas got his branch line, he met Annie and Clarabel for the first time when he thought they were the express coaches. He apologised and introduced himself, leaving Annie and Clarabel impressed. They were often pulled by James. Edward at one point was also briefly seen with them. When Thomas received his branch line after rescuing James, the two coaches were given to him to use. When Thomas is away, Percy, Toby, Duck, Stanley, Rosie  and Ryan take his place to pull them. Emily and Neville have both taken them not knowing they were Thomas' coaches, and Caitlin has once taken them without realising they were coupled to her own coaches and Hiro saved them. Gordon also pulled them once, when Samson took his Express Coaches by mistake. Ashima has also taken them.
Persona
Annie and Clarabel are respectful to all of the engines, but most of all Gordon and Thomas. They are Thomas' best friends and are quick to rebuke him when he gets troublesome. Annie and Clarabel are best friends, but like all friends, sometimes they fall out.
Basis
Annie and Clarabel are based on LB&SCR Stroudley four-wheeled coaches.
Livery
they were painted in a tan livery with their names painted on their sides in white, from the first season, to mid-way through the fifth season. Since then, they are repainted in an orange-brown livery, again, with their names painted on their sides in white.
Appearances
Memories (mentioned; seen in flashback)
Toby and the Subway Car (do not speak)
No Hamburgers for Duck (do not speak)
Jacob's Trip to the Hospital (do not spak)
The New Controller (do not speak)
Sam
Shane
Thomas the Tank Engine (do not speak)
James the Red Engine (do not speak)
Bertie the Bus
Terence the Tractor
Thomas and Emily
Sodor and the Storm Part 3 (do not speak)
The Great Railway Show (stock footage cameo)
Quotes
"How dare he say we'll do!"

Annie and Clarabel, Thomas and Emily, Engine Friends
Gallery